Atelocollagen - an overview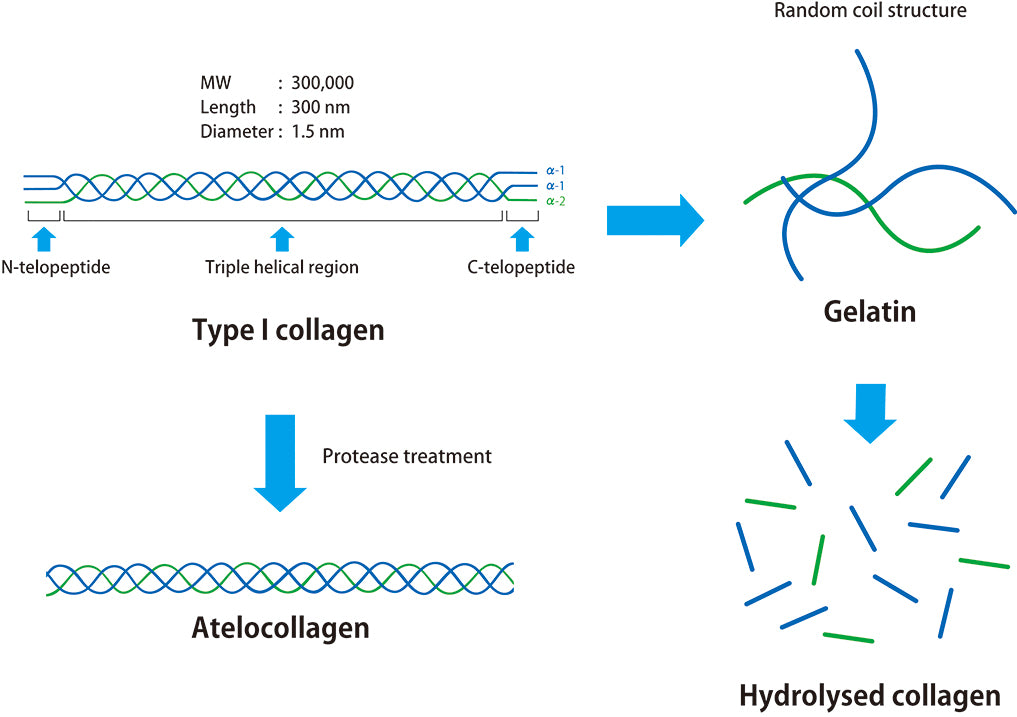 Collagen is a major connective tissue protein that plays an important role in the extracellular matrix in animals. As such, collagen possesses good biocompatibility with animal body tissues. Atelocollagen is a type of water soluble collagen produced from tropocollagen, the collagen molecule that makes up collagen fibrils, via the elimination of the telopeptides moieties (by using enzyme – protease treatment) which are considered to account for most of collagen's antigenicity.
Thus, atelocollagen is considered to have little immunogenicity, which makes it a safe biomaterial  and remains the same properties as collagen. In fact, it is widely used for implantable medical and plastic surgical products. Atelocollagen is used in medicine for culturing cells also in cosmetics for it's strong anti-ageing and rejuvenating properties. Also Atelocollagen is used as a highly biocompatible biomaterial.
To date, atelocollagen has been used as an effective drug delivery technology to sustain the release of antitumor proteins and to enhance the antitumor activity of oligonucleotides in in vivo models. However, the biological effects of this technology are not fully understood yet.
The atelocollagen triple helix region is conserved among species and shows low immunogenicity, while the telopeptide regions exhibit high immunogenicity. Peptides obtained by hydrolysis by enzymatic treatment are called hydrolysed collagen. Gelatine and hydrolysed collagen have totally different properties from collagen due to their structural differences compared to collagen.
This comes as a culmination of the fascinating story of discovering extraction methods of live, transdermal collagen helices from fish skins. It is also a masterpiece of the art of confectioning for a new generation of skin care products. Unique combination of three types of collagen: atelocollagen, tropocollagen and procollagen, in a substance that is one of a kind, effectively fighting the passage of time for us.